I have picture book envy. I wish I wrote Mara's books!
Jama's Alphabet Soup
All illustrations © 2015 Vincent X. Kirsch.
There's nothing more delicious than learning something new about a well-loved food.
When I think of gingerbread, I think of Emily Dickinson lowering basketfuls to the neighborhood children, Laura Ingalls Wilder setting out a pan to cool at Rocky Ridge Farm, or Emily Brontë baking a family parkin. I'd read about gingerbread's long and interesting history, marveling that Queen Elizabeth I was essentially responsible for the gingerbread boy cookies we now bake every holiday season. But I never imagined a gingerbread baker could be an unsung hero in Revolutionary history.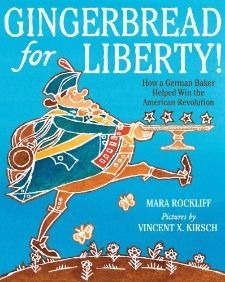 Officially hitting shelves today, Mara Rockliff'sGingerbread for Liberty!: How a German Baker Helped Win the American Revolution (HMH, 2015), introduces young readers to Christopher Ludwick, a German-born American patriot living in Philadelphia, who as Baker General of the Continental Army, fed General George Washington's troops and even snuck off…
View original post 1,714 more words